Learn Python like a Professional Start from the basics and go all the way to creating your own applications and games
Excel with this A-Z Microsoft Excel Course. Microsoft Excel 2010, 2013, 2016, Excel 2019 and Microsoft/Office 365
COMPLETELY REDONE – The only course you need to learn web development – HTML, CSS, JS, Node, and More!
Want to pass the AWS Solutions Architect – Associate Exam? Want to become Amazon Web Services Certified? Do this course!
Learn to create Machine Learning Algorithms in Python and R from two Data Science experts. Code templates included.
Master Angular 13 (formerly "Angular 2") and build awesome, reactive web apps with the successor of Angular.js
Five Hours of Expert Instruction That Will Bring You Endless Hours of Fun & Excitement.
Master bootstrap 4 development and learn to create responsive websites that use bootstrap's CSS grid and flexbox.
Learn How To Do The Bikram Yoga Sequence in the Comfort of Your Own Home
With an audience of 35+ million fans, the most popular bartender in the world teaches you to mix up drinks like a pro!
A step by step guide to making a set neck electric guitar with virtually unlimited scope for customization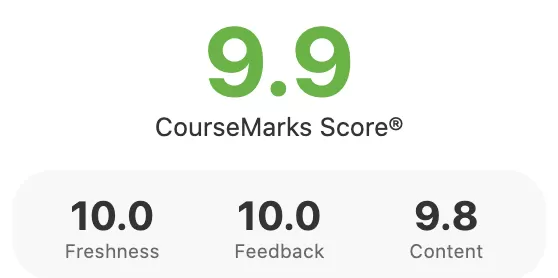 We evaluate the course on the basis of 18 signals to show you the best possible course in 13,000 topics. We have analysed 75,000 courses and found the 18 most important signals, such as the length of the videos, the ratio between the number students and the number of reviews, how detailed the description is. We have put everything into a final number so that you can find the high quality courses faster.

Keep exploring, keep learning.